I have used Elliott wave signals to predict price moves in my trading for over 10 years:
Elliott wave predictions, offer a big picture view of the overall price action in the market which is simply impossible in any other trading system.
Using Elliott wave forecasts in your trading, does not mean you will suddenly gain supernatural powers!
BUT:
Using Elliott wave forecasts does mean that you will lose small and you will win more frequently by using the Elliott wave indicator buy and sell signals in your trading!
---
Check out my short instruction video:
Placing trades with Elliott wave signals.
---
You form a picture of what the price action is doing in multiple degrees of trend.
So;
What happens on a 30 minute chart directly impacts your view on the hourly price action, the daily price action and the weekly price action, all the way up the chain!
Every movement in price has consequence for your overall stance on the market.
So every price move leads you closer and closer to a high probability trading signal, and the closer you get, the less risk you are taking!
And the better the predictions for the path of future price moves that you can make.
And that is the beauty of an Elliott wave indicator buy sell signal.
If you follow the rules, you will never have too much risk on the table. This method leads to better predictions, better trades, and long term profitability.
In this post I am going to show you, how I use Elliott wave signals in my trading.
I will go through:
3 recent price predictions I made, why I made those calls, and the results.
---
 For me, a trading method must achieve 3 things.
Minimize risk!
Give a clear outlook, for prices.
Identify high probability trades.
---
This is how Elliott wave signals, solve those trading problems for me.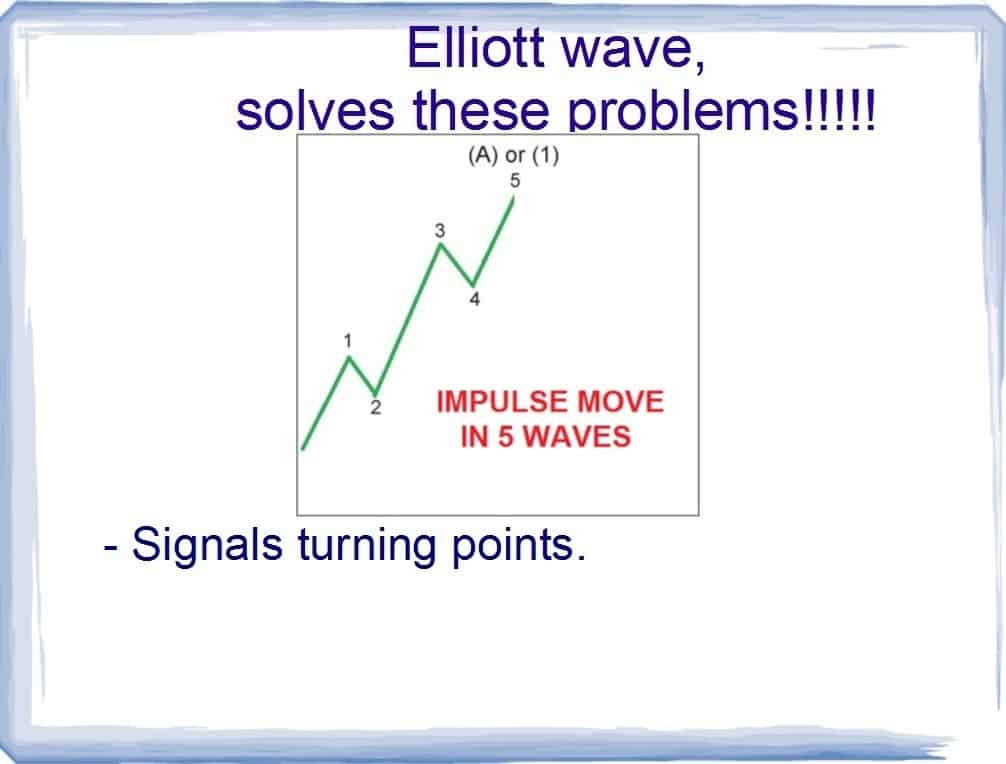 You can use Elliott wave to spot a turn in the market trend by searching for a five wave pattern facing in the opposite direction on the short term charts. when this signal is in place you look for a correction off the recent short term high that traces out three waves.

Once the three wave correction is in place, the market is poised to carry on the trend change. We now look for a trade entry point with the lowest possible risk.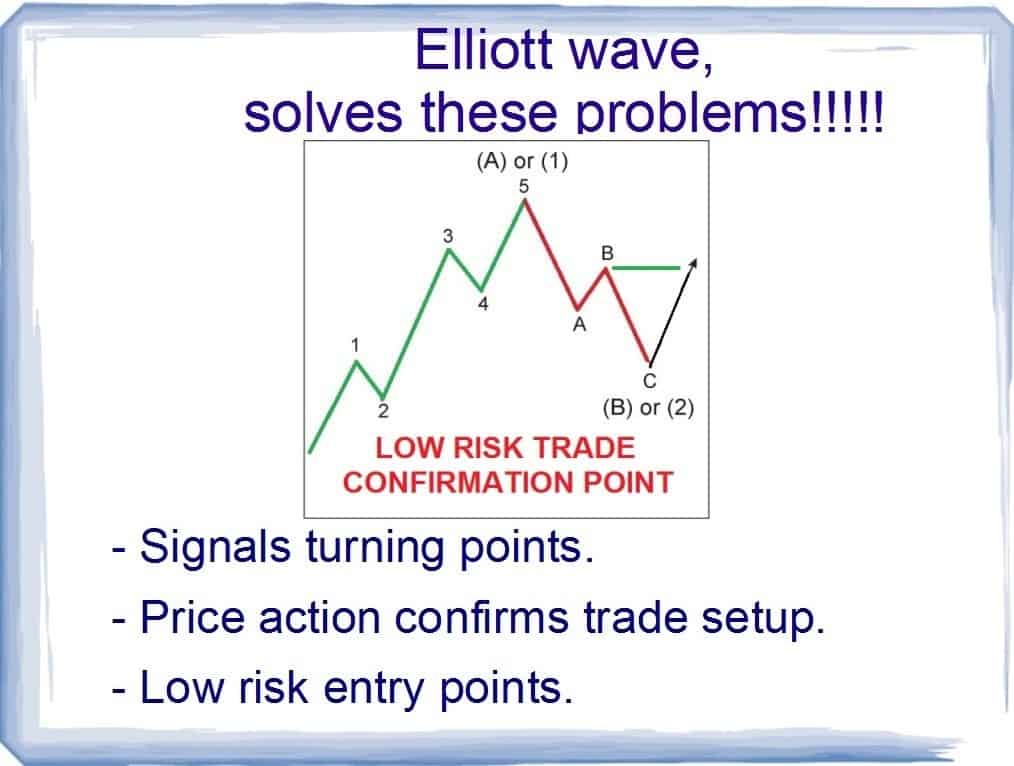 That opportunity presents itself at the high of the 'B' wave, within the correction. Your stop loss can be placed at the low of wave 'C'.
This setup allows you to place a trade with the lowest possible risk on the table. It also allows you to reap the reward when your prediction comes good.
---
NOW to the meat....
Here are 3 - low risk / high probability trades, all Placed using Elliott wave signals and how those trades worked out.
( FOLLOW THE LINKS TO CHECK OUT THE ANALYSIS )
---

In this example of EURUSD Elliott wave analysis, I noticed a complete 5 waves down into wave '1' blue,
 
I then predicted corrective rally to happen in three waves.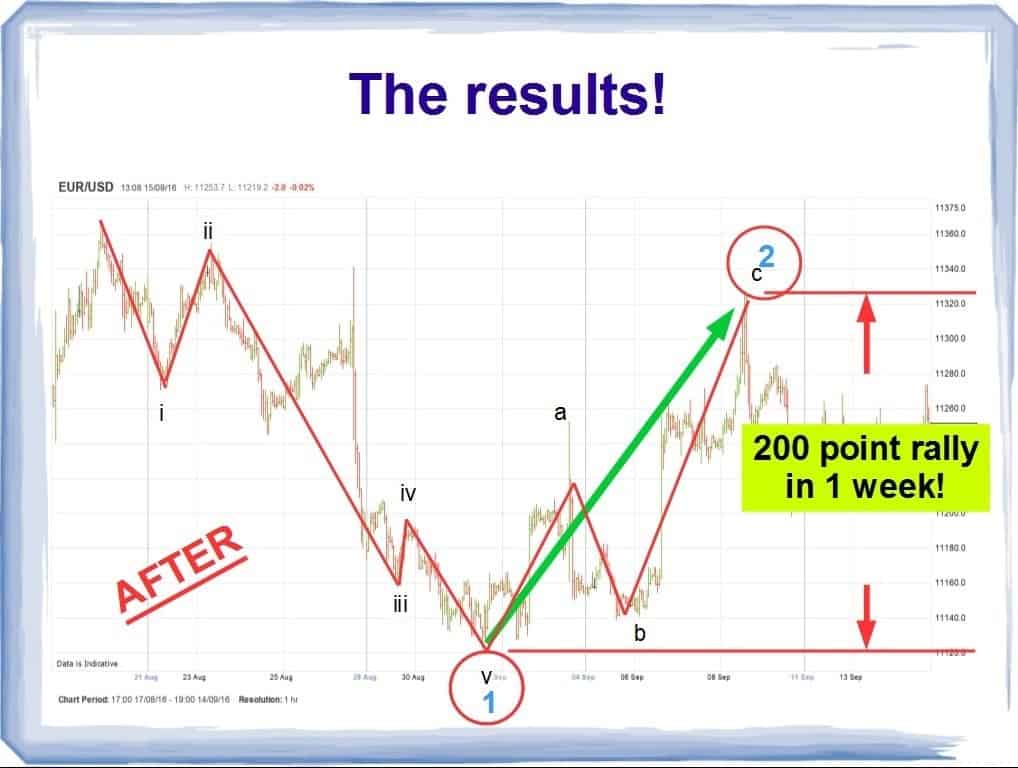 And over the next week the price rose 200 points, EURUSD elliott wave indicator buy sell signals, are far superior at spotting turning points in the price pattern.
---

This example of GBPUSD Elliott wave analysis was based around a longer term corrective pattern to the upside called a zigzag.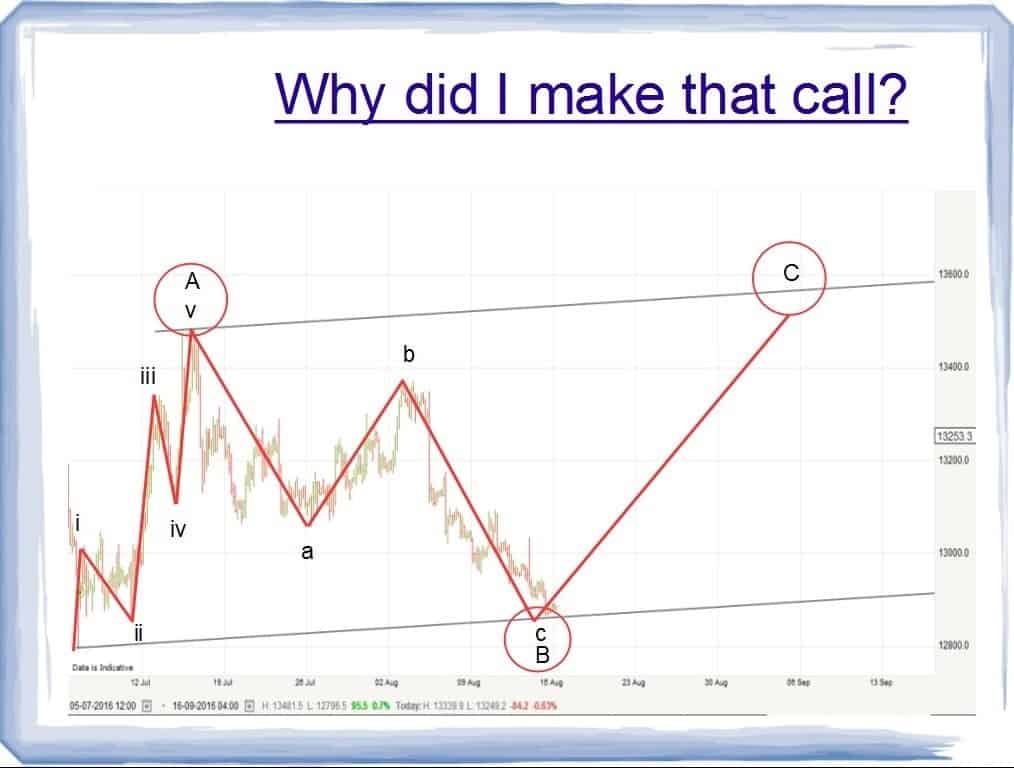 Waves 'A' and 'B' were complete so I knew wave 'C' was likely to start soon. So the GBPUSD Elliott wave forex signals stated that prices would rally in wave 'C', back towards the upper trend channel.

This piece of GBPUSD Elliott wave analysis resulted in a 550 point rally in 3 short weeks.
---

In this example of USDJPY Elliott wave analysis, I noticed an impulsive rally off the post brexit low, I labelled that wave '1' up, what came next was a 3 wave decline in wave '2' at that point an elliott wave forex signal was in place.

I then predicted wave '3' was about to start, and the USDJPY Elliott wave analysis predicted that the rally should be big!

This piece of USDJPY Elliott wave analysis came true, and what followed was a

750 point rally in two weeks.
No trading method, other than Elliott wave analysis would allow you to setup for theses trades.
These elliott wave examples show how the elliott wave indicator buy sell signal works in actual trading.
---
Elliot wave helps me answer four important questions when analysing the price action:
What direction the price is trending?
How far is this trend likely to go?
Where can I enter a trade with the best risk reward ratio?
And most importantly, at what point am I definitely wrong?!
Elliott wave forecasts help me:
Spot high probability trade opportunities
improve my trade entry,
tighten up my money management
and in turn increase profitability.
Does your trading strategy give you an edge in your trading?
If you can answer those questions in a positive manner, then you are doing OK!
If you cant;
Then maybe you should look at Elliott wave,
Because Elliott wave can provide an answer to those big questions, and it offers a course of action on you analysis.
Let me tell you!
Seeing the waves unfold before your eyes is a very rewarding experience,
It is almost like peering into the future!
That is how Elliott wave predictions help my trading,
AND 
That is why the wave principle will improve your trading too!
Happy hunting!
---