Daily Elliott Wave Charts 06-13-16.
On this page we will cover the three major U.S Dollar FX pairs from an elliott wave perspective. These charts are updated daily and show the current most likely elliott wave counts in each market. Make sure to check back daily for the updated analysis.
EUR/USD
1 hr chart.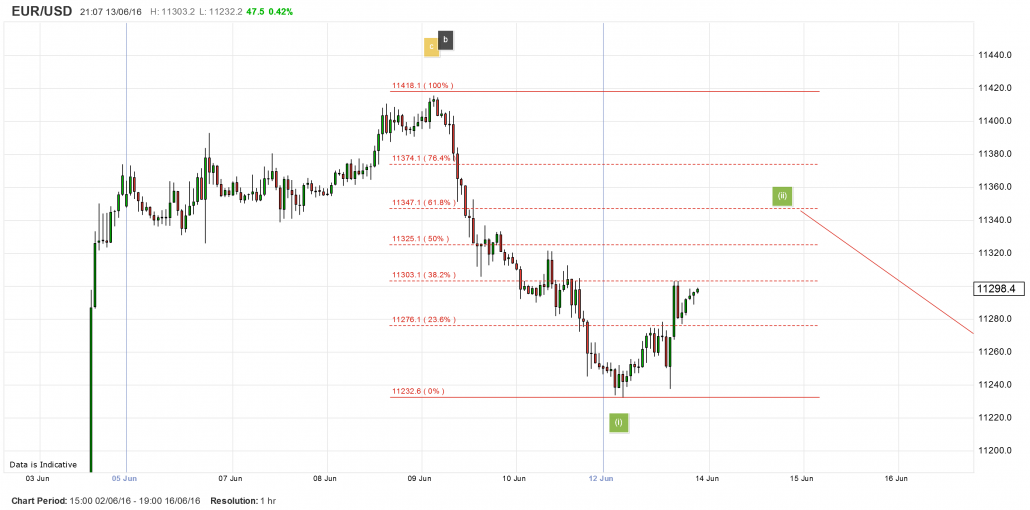 The 10 minute chart:
We are nearing a very interesting point for EurUsd. The days trade hs been nothing but corrective to the
upside.
In general I am looking for a large move down in the pair to get the 'c' wave on its way.
This 'c' wave should trace out 5 separate waves down, which I am labelling in green.
So far it looks like wave (i) down in green is complete and the market is working on wave (ii) to the upside.
This should be a corrective affair and trace out three internal waves 'abc'.
I have marked wave 'a' as complete and wave 'b' underway.
these are a guide for myself, to illustrate what I could expect under this scenario.
I don't see this wave (ii) green as complete just yet and I expect that tomorrow will bring the market higher in wave 'c' black.
The hourly chart:
On the hourly chart I have drawn Fibonacci retracement levels.
A normal wave 2 retracement would make its way back to the 50% level.
This is the main reason I am expecting more in this counter trend rally.
A 50% retracement comes in at 11325 and 62% is at 11347. As I write this the market stands at 11298.
So we can expect a little more upside tomorrow under this count.
If I am correct in this wave interpretation, then a BIG selloff is due in the pair which could easily take us down to the 10800 level over the rest of the next week
for tomorrow look for a slight rally that might turn down before 11350
then we will be looking for the decline to restart and take out todays low of 11232.
The daily chart: unchanged
The daily chart: shows EURUSD has finished a C wave rally in an ongoing large contracting triangle large degree 'B' wave.
This triangle will eventually trace out 5 internal waves, labelled 'a' through 'e'.
Currently the market is mired in wave 'D' of that triangle.
All the while prices will narrow in range around that central price of around 11100.
When complete, EURUSD will sell off in a deep decline in a 5 wave 'C' wave similar in size to the 2014-15 plunge.
Wave 'D' itself will be a three wave structure with a downside target of around 10600.
GBP/USD
1 hr chart.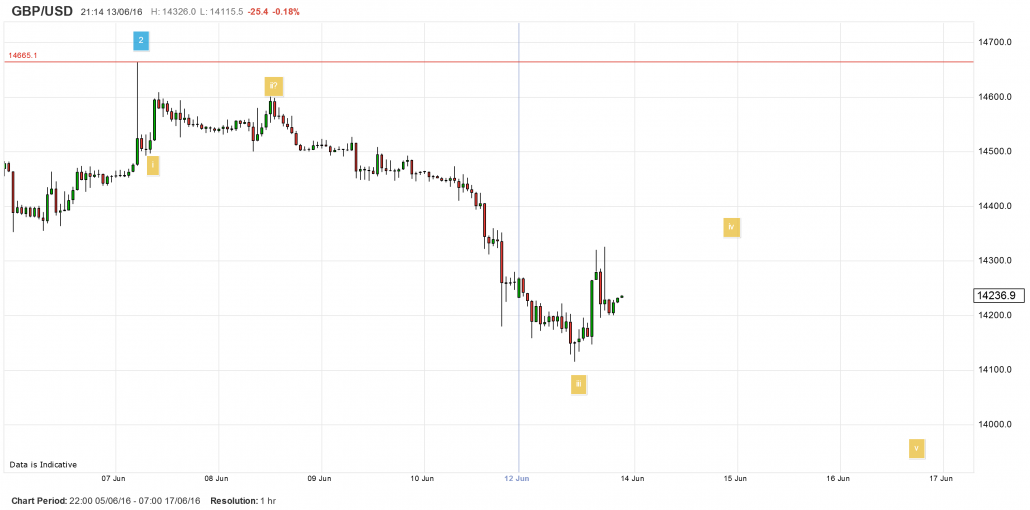 The 10 min chart:
Cable rallied today in the same vein as EurUsd, that is collectively!
Choppy and indecisive was the name of the game today.
On the ten minute chart I have placed a trend channel which is an indicator to where the corrective rally might go
I am calling this action a rally in wave 'iv yellow of an ongoing third wave down in the new bear market for cable.
If we get an internal 'c' wave in this corrective rally, then we can expect tomorrows trade to bring prices up above todays high and into the 14400 region.
Otherwise, If the market takes out todays low then we can call that a recommencement of the decline.
The hourly chart:
On the hourly chart I have shown a potential path for price to follow in a clean 5 waves down in yellow.
Wave '3' blue could possibly bring the market down into the 14000 level before finishing.
This wave count calls for a deep decline in cable which could possible bring us to parity over time.
but that is getting ahead of myself,
for tomorrow
Keep an eye on that trend channel with the possible 14400 target.
The daily chart: unchanged
The current active wave count views cable as having finished a three wave counter trend correction called a double zigzag,
which is two zigzag corrections together, and labelled W,X,Y, to distinguish from the normal A,B,C labelling.
The double zigzag wave counts as a 3,3,3 form.
Gbpusd is now embarking on a new phase of the decline that began last year.
USD/JPY
1 hr chart.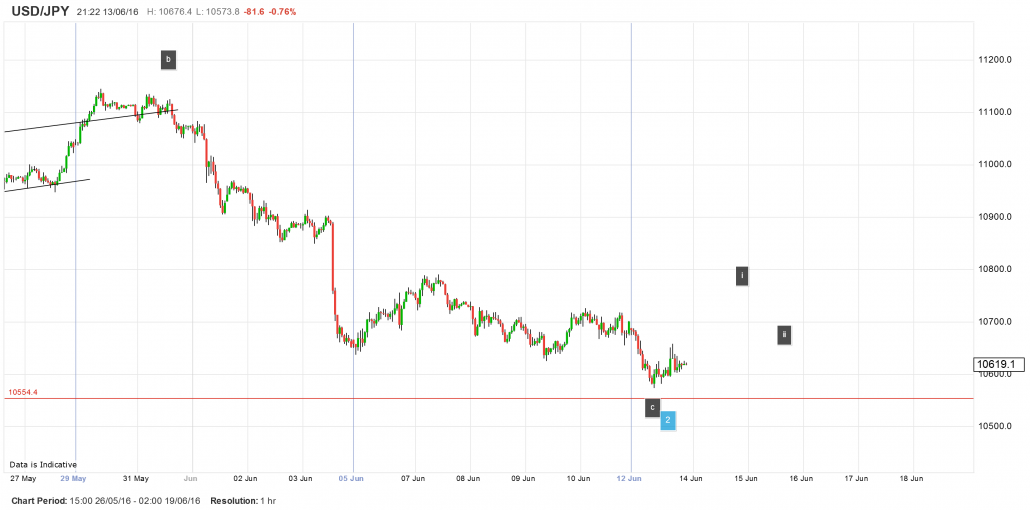 The 10 minute chart:
Dollar Yen is giving me a lesson in patience over the last few days! I have been stopped out today by that dive that happen in the eastern trade.
The market came within 25 pips of taking out the longer term invalidation line that I have placed at 10554!
25 pips! I wish it would just take out the invalidation line and stop taunting me!
Anyhow, enough ranting, down to business.
The market is simply re asserting the point that it does not matter what I think.
It only matters what the price is.
We are so close to the invalidation point on the longer term wave count that the pair simply has to rally from here or the count is doomed!
It is do or die for dollar yen.
The trade today was not inspiring either!
The trade went higher, but not in an impulsive fashion at all.
I have refrained from labelling the short term chart for that reason. I am unsure here!
The hourly chart:
On the hourly chart you can see my conundrum!
the market is flirting with disaster at this point.
There is an argument to say that all of last weeks trade was an unfolding contracting triangle within the wave 'c' of the decline.
That will be decided soon.
For tomorrow the point to watch is that low at 10554. if we break that low , then I gotta go back to the drawing board.
On an optimistic note, the wave count has not yet been invalidated!
So there is still the sliver of a possibility that we might be saved.
Tomorrow will tell
The daily chart: unchanged
The decline since the high in June 2015 has taken the traced out a large irregular correction taking the form of a 3,3,5 wave structure,
This is labelled in green above on the daily chart.
Prices have possibly completed that correction and are now back in mode for a large rally ahead.
For the large degree wave count to remain valid, then the most recent low of 10550 must hold.