---
Hi there.
---
EURUSD.
---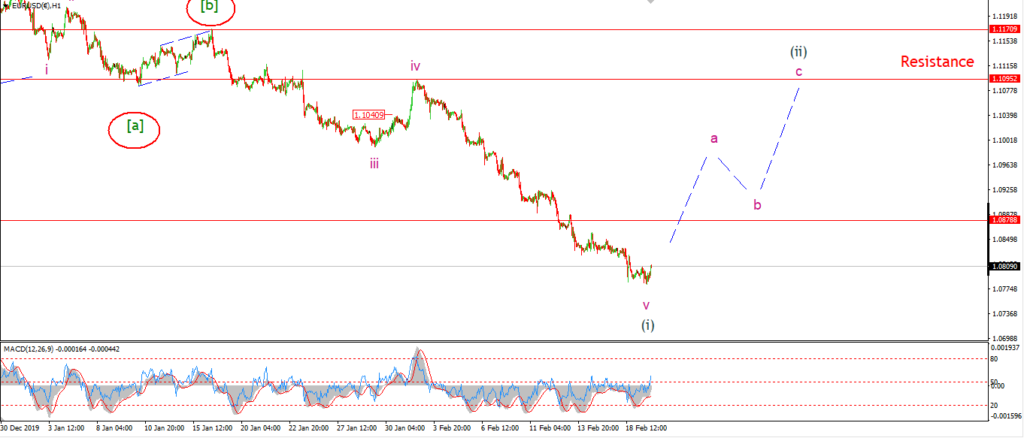 EURUSD 1hr.
---
Nothing new to report today in EURUSD.
This market will turn up very soon in either the preferred wave (ii) count,
or the alternate wave 'C' count as seen on the 4hr chart.
Todays market is flat as a pancake up to now.
But there is no action on the short term chart
to indicate the swing higher has begun in wave 'a' of (ii) just yet.
so I will await tomorrows action to see if we can pick out a bullish higher low as at a minor degree.
Tomorrow;
watch for wave 'v' to finally find a low and wave 'a' to turn up above 1.0878.
---
GBPUSD
---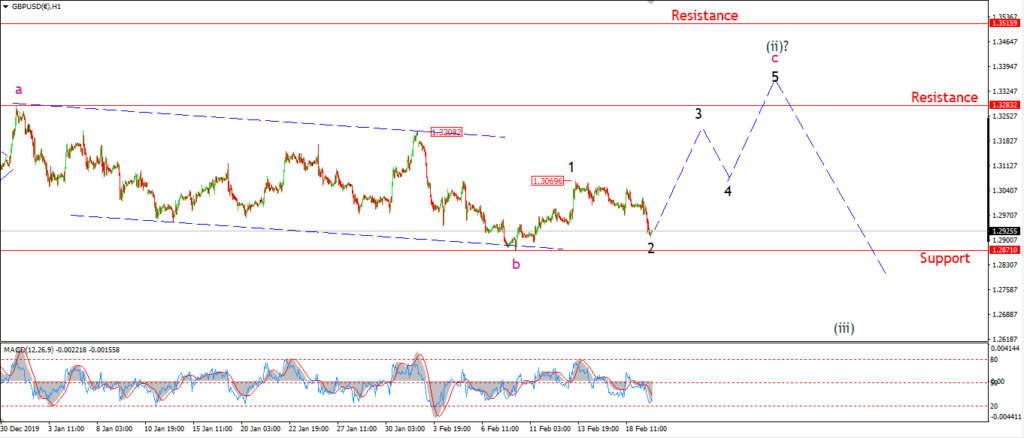 GBPUSD 1hr.
---
Cable took a hit today which has ruled out last nights ideas.
I still favor the upside in the short term,
but the structure in wave 'c' is obviously getting strained.
I have shown a possible wave 'c' extension tonight.
This views todays drop as wave '2' of 'c'.
The price must hold above 1.2871 early tomorrow.
and wave '3' of 'c' must then rally back above 1.3069 again to confirm this pattern.
Tomorrow;
Watch for support to hold at 1.2871 and wave 'c' to return higher again.
---
USDJPY.
---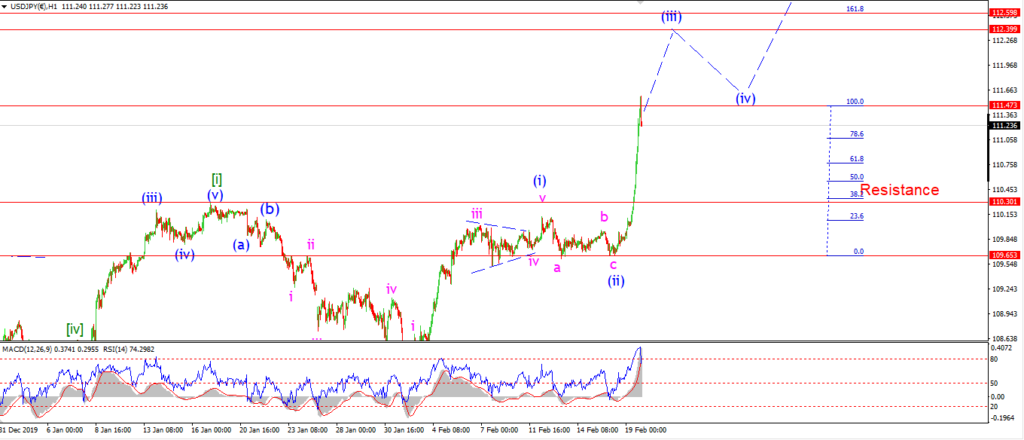 USDJPY 1hr.
---
Well well well!
Wave (iii) came in earlier than expected,
but it came none the less!
The market went vertical today,
and with this action it has more or less confirmed that the upside is where we will be heading for the forseeable future.
Wave (ii) of [i] did not make the new low that I had expected.
It seems to have completed a running flat at 109.63.
And the and then wave (iii) of [i] began off that low.
The rally today has brought wave (iii) to 100% of the previous wave (i) length at 111.47.
Wave (iii) would usually reach towards the 162% extension of wave (i),
so there is a possibility that the rally will resume over the coming days after a short correction.
Tomorrow;
This rally will have to create a reaction to the downside soon.
The size of that correction will inform the wave count from there.
The price should hold above 110.30 on the low end.
And then wave (iii) should continue higher.
---
DOW JONES.
---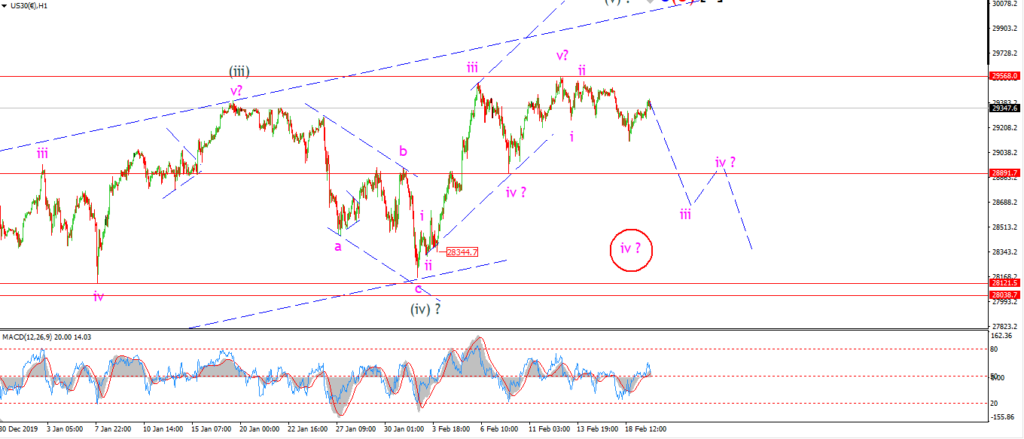 DOW 1hr.
---
The short term action is hard to read in the DOW today.
The price did not make a new high as the S&P did,
so there is still a good chance that we are building towards a larger downside signal off the recent high.
If this is the case,
then we should see the price return lower tomorrow and accelerate into a possible third wave.
A break of 28891 would greatly increase the chances of this bearish scenario.
So lets see if we can reach that low tomorrow.
Tomorrow;
Watch for wave 'iii' down to gain control and pull the price down below that initial support at 28891.
---
GOLD
---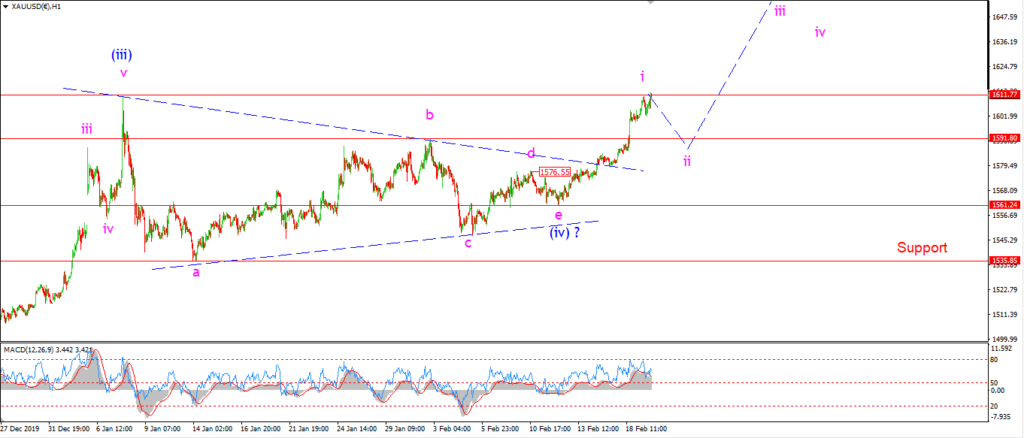 GOLD 1hr.
---
Gold just held off from breaking above the previous wave (iii) high today.
I am still viewing this rally as a possible wave 'i' of (v),
but a break above that 1612 high would confirm that count.
The rally out of the wave (iv) low is in a nice impulsive form so far.
The price could extend a little farther in wave 'i',
in order to create a clear five waves internally off the wave (iv) low at 1561.
Tomorrow;
Watch for a break of 1612 to complete wave 'i' of (v).
Wave 'ii' should then begin and 1591 will act as support to any decline.
---
CRUDE OIL.
---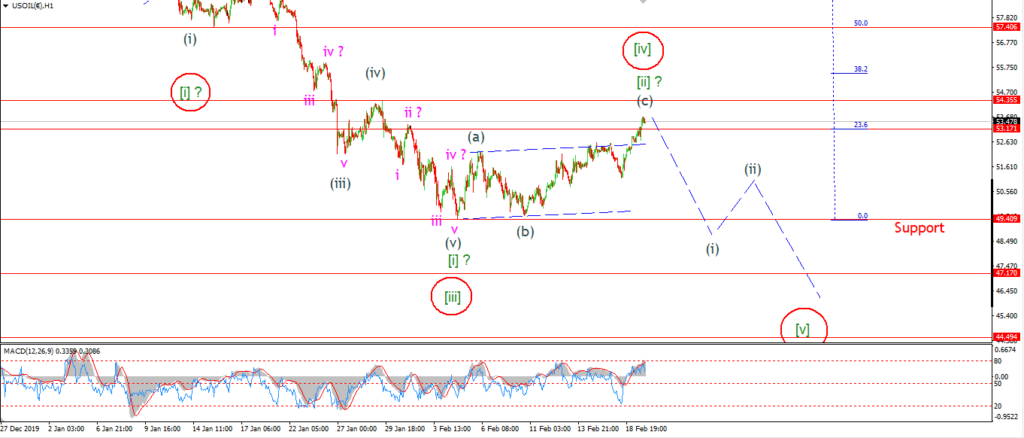 CRUDE OIL 1hr.
---
Crude is making its way higher today and has broken above the initial target level at 53.17.
This marks the 23.6% retracement level of wave [i] down.
While this correction higher is not as high as I would expect in a second wave,
at least we have hit a reasonable level in wave [ii]!
The alternate count is still very viable at this point.
And the same resistance levels are relevant for wave [iv] green.
Wave [v] green should return back below 49.40 at a minimum.
Tomorrow;
The next target above this point lies at the previous fourth wave high at 54.35.
So if this rally continues tomorrow,
I will be watching that level to see if it offers resistance to wave 'c'.
---
S&P 500.
---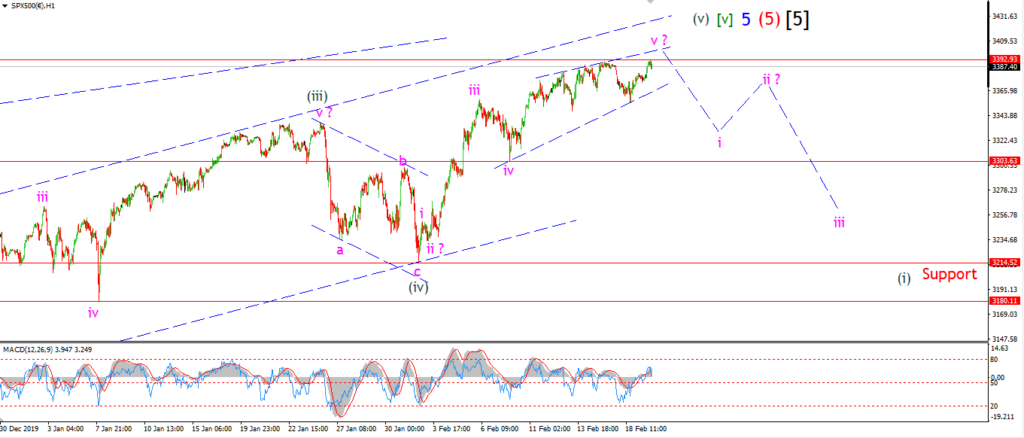 S&P 500 1hr
---
It is possible that todays very slight new high is part of an ending diagonal in wave 'v' pink as shown.
This involves five separate overlapping three wave moves within wave 'v'.
The market action is definitely overlapping lately.
And the price has lost its upside momentum.
This all fits with an ending diagonal scenario.
But the only way of proving this count correct now,
is for an impulsive decline to begin once wave 'v' completes.
Tomorrow;
Watch for a five wave decline to begin in wave 'i'.
3303 remains the first level of interest below,
a break of this level in wave 'i' will signal that the rally has ended.
---
SILVER.
---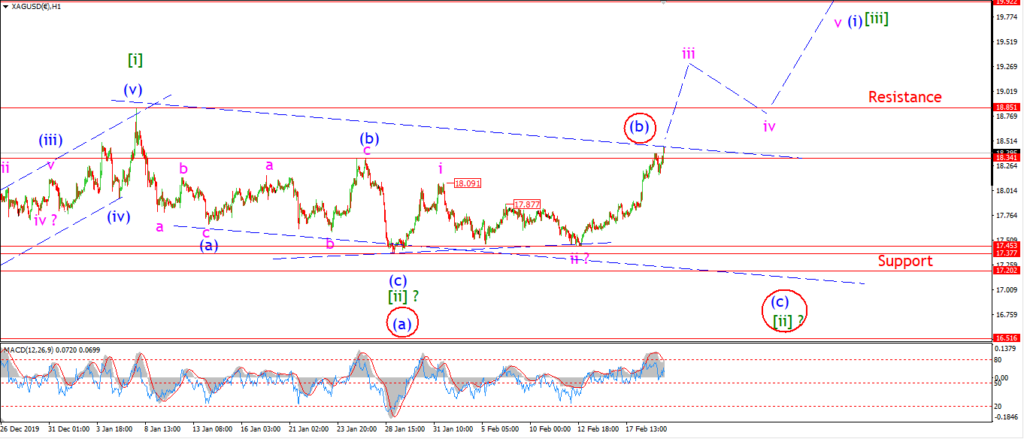 SILVER 1hr
---
Silver is continuing higher today and adding strength to the idea that this is wave 'iii' now in force.
The price broke out above 18.34 this evening which signals wave 'iii' has begun.
And if this rally continues above 18.85 tomorrow,
this will confirm the fact that the larger wave (i) is in force.
Tomorrow;
If wave 'iii' is now underway,
then the price must hold above the wave 'i' high at 18.09.
Watch for wave 'iii' to break above resistance at 18.85.
---
U.S 10YR.
---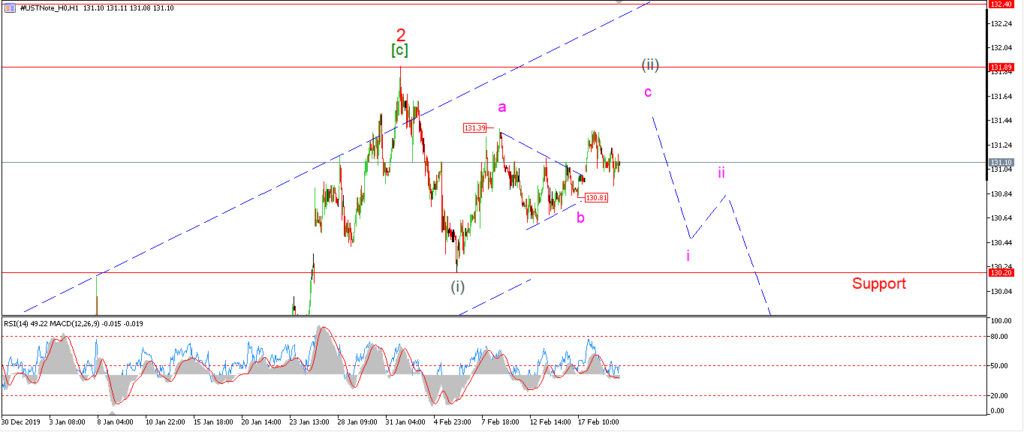 US 10YR 1hr.
---
Bonds did drop off Tuesdays highs today,
but the action looks corrective for the moment.
That high did not break the wave 'a' high either which is the minimum target for wave 'c' to complete.
Unless we see a sustained decline back to 130.20 now,
then I will assume that wave (ii) is still in force.
The price is holding above the wave 'b' low at 130.81 today also,
so this indicates that wave 'c' of (ii) has more to go.
Tomorrow;
Watch for wave 'c' to break the wave 'a' high at 131.39 to complete the pattern.
---