Hi everyone.
I have seen report after report about how Crude oil is now positioning to take out $100.
That all sounds well and good right now when prices have been on the rise for the last 2.5 years!
Of course it is easy to be bullish at new two year highs.
But, this sort of linear projection at the end of a trend will get you killed when this market turns down again.
Lets take a look at positions in the futures market right now.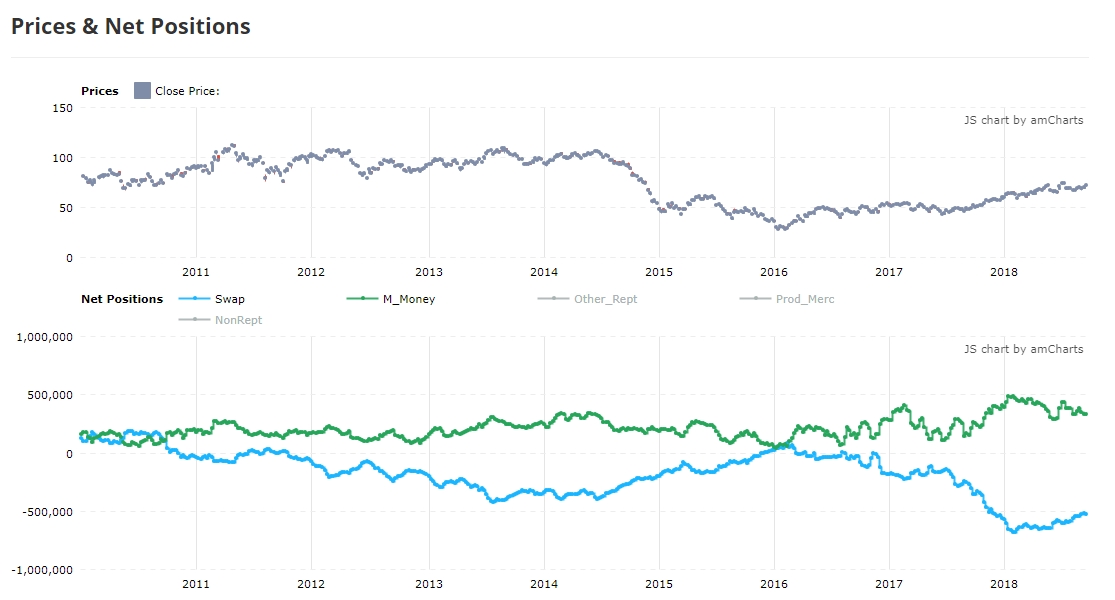 Look at how the opposing sides of the market were positioned in 2014, money managers hit the highest net long position in five years right before the market collapsed by 70% into the 2016 lows.
Look at where the market is positioned now.
This is possibly an even worse situation, as swap traders are now net short by over 500,000 contracts, and money managers are positioned just as long as they were back in 2014.
The scene is set for another horrible decline in the oil price, the wave count says so, and the futures market agrees!
---
Wave [iii] seems to have topped out at last nights highs.
The slight decline today may well be the beginning of wave [iv].
Wave [ii] brown is most likely a simple zigzag pattern.
In that case,
I prefer a more complex pattern for wave [iv], possibly a triangle.
We will have to wait and see.
Tomorrow;
Watch for further declines in wave (a) of [iv].
Wave [iv] must hold above 71.17, the wave [i] high.
If 71.17 breaks this week,
Then we can look lower again for the next leg down to begin.